Curated by Nicolas Gourault
Saturday 25 November 19:00 at Cinema Nova
SoundImageCulture is organising an evening of screenings to explore the forms of representation associated with New Media, which constitute the political and technological landscape of contemporary society.
On the program:
Stéphanie Lagarde — "Minimal Sway While Starting My Way Up" (2021),
Gwenola Wagon & Stéphane Degoutin — "The House that Wishes You Well" (2022),
Nicolas Gourault — "Unknown Label" (2023),
Natan Castay — "En attendant les robots" (2023).
Followed by a discussion in presence of the artists / filmmakers.
Free, on registration only. Simply send us an email at soundimageculture@gmail.com to secure your place!
Invisible Images
Each of the films draws on the large-scale flow of images that is being created by the deployment of new technologies linked to artificial intelligence and/or connected objects. Each work deals in a unique way with the relationship to images and to the political space that is being constructed in a society where the environment is increasingly mapped out by a computer network that is becoming an invisible but necessary infrastructure for everyday life.
The technical devices installed by local authorities in their quest for an 'intelligent' city, but also by private individuals looking for comfort and security, produce images of a new kind, so-called 'operative' images, as Harun Farocki called them, in other words images whose intended recipient is no longer the human eye but an automated technical process. These images, which escape the human eye and yet condition a growing part of our lives, question the traditional relationship to the image as developed through the major media of the twentieth century, whether cinema or television.
The films presented at Nuit Numérique are part of this question, proposing as many original artistic approaches to reappropriate these invisible images and think about them collectively.
All the 4 films provide new aesthetic and political strategies for making visible and questioning the technological 'black boxes' that are part of the contemporary world.
What the films have in common is that they link a reflection on the nature of images with a broader reflection on the relationships of power, domination and emancipation established by these images and by the objects from which they come.
In inviting these artists and filmmakers to present their research at this evening screening, we have a dual objective. Firstly, to make accessible to as many people as possible some of the keys to reclaiming the technical devices that surround us and that increasingly determine our lives, sometimes without our very knowledge. But it will also be about examining the relevance of new ways of using the language of film to explore the technological and political issues on the horizon.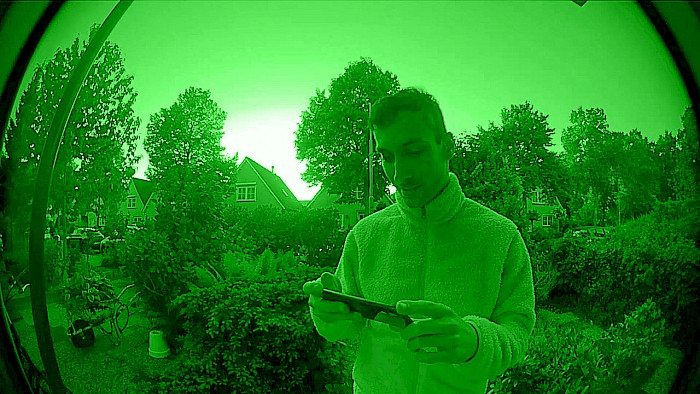 Gwenola Wagon & Stéphane Degoutin, The House that Wishes You Well (2022)
Program
Minimal Sway While Starting My Way Up,
by Stéphanie Lagarde
(2021 / 15'44") Produced by Video Power
Supported by Kone Foundation and SCAM Brouillon d'un rêve
Synopsis
As an intelligent elevator discovers the world, we get to know the invisible links between extreme heights –the mega-tall tower, speculative object and symbol for social, cultural and economical domination– and extreme depths –the deep mine, place of natural wealth extraction and colonial exploitation. As doubts, fears and desires melt in the consciousness of the elevator, existence becomes a battle to justify itself.
Trailer
https://vimeo.com/605869879
Biography  – Stéphanie Lagarde
Born in 1982 in Toulouse. Works and lives in Paris.
Artist researcher and filmmaker in residence at Lafayette Anticipations, Paris, FR in 2023, La Coopérative de Recherche ESACM, Clermont-Ferrand, France, 2019-2023, and at the Jan van Eyck Academie, Maastricht, The Netherlands 2015-2016. Her films are produced by Video Power
The House that Wishes You Well
by Gwenola Wagon and Stéphane Degoutin
(2022 / 20′) Video installation, film, house with BA13, doorbell
Designed for the exhibition "Shelter", the installation consists of a white house surrounded by a green lawn. The door is locked with an electronic lock and monitored by an Amazon Ring connected doorbell which films the outside. The door opens, under the condition of a code disclosed at the entrance of the exhibition, and then closes immediately. Inside, you can sit on a sofa to watch on a TV screen a montage of videos captured by the connected doorbells installed on the doors of American homes.
Biographies
Stéphane Degoutin and Gwenola Wagon investigate by searching the Internet, drift in the space of hyperinformation, tell post-cybernetic fables, tinker with alternative lifestyles, create films, books and installations.
Unknown Label
by Nicolas Gourault
(2023 / 16′) With the support of the European Media Art Platform (EMAP) residency program.
Synopsis
Unknown Label explores the daily reality of online micro-workers from the Global South who annotate images for self-driving cars. It investigates the power asymmetries and neocolonialist exploitation involved in the human labour necessary to train AI systems. Unknown Label reveals the hidden people that help shape how machines see the world.
Biography – Nicolas Gourault
Nicolas Gourault is an artist and filmmaker based in Paris (FR) with a background in visual arts and visual studies. He has worked with Forensic Architecture before graduating from Le Fresnoy, Studio national des arts.
His work is imbued with this double training, navigating between online open-source investigations and the critical use of new media as documentary tools. His films and video installations explore the power relationships embedded in technologies and tries to build counter-narratives through the use of situated testimony and experimental image-making.
En attendant les robots
by Natan Castay
(2023 / 39′) Produced by Media Diffusion, CBA.
Synopsis
After losing his job during lockdown, Natan signs up to a microtask website. Having become a "Turker" alongside tens of thousands of others, he is paid a cent for each face he erases on Google Street View. Under the guise of Otto, a fictional character, he embarks on an experimental and playful investigation into "clickworkers", haunted by the spectre of Beckett.
Trailer
https://www.youtube.com/watch?v=MxqYzzmuO7k
Biography – Natan Castay
Natan Castay is a young director born in Brussels. He studied filmmaking at IAD and is interested in both fiction and documentary.
Practical Information
Cinema Nova (Brussels)
Saturday 25 November 2023
19:00–21:00 film screenings + conversation with the artists
A free drink will be offered after the screening
Would you like to attend?
FREE, on registration only. Simply send us an email at soundimageculture@gmail.com to secure your place! Limited space available.